Welcome!
Most of us have enjoyed living our lives in a residential home setting with family and loved ones all around us. As many of our aging parents and loved ones find a need to reach out for assistance in daily living, we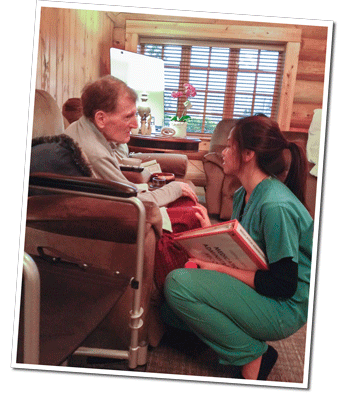 believe the most comfortable transition for them is into a family-style senior-living home, called an adult family home. In a safe, secure and comfortable home, they will enjoy the privacy of their own bedroom and bathroom under the watchful care of a 24/7 caregiving team, completely dedicated to meeting their personal aging needs. Our well appointed log cabin home, sitting on two beautifully landscaped acres in Bothell, Washington provides the best in family-style senior living for six senior residents. As our loved ones age, more specialized care and attention is required to care for them each day. We understand how challenging, and even sometimes overwhelming, that care can be. That's why we are here to ease your caregiving responsibilities. Our caregiving team is specially trained in caring for those dealing with the unique issues of aging. Memory loss, incontinence, medication assistance, loneliness and all aspects of senior care and their daily living are what we specialize in. We welcome you to come visit our lovely home and see how well we will manage the care for your dear loved one. Call today and let's visit about how we can best serve you and your family's needs. We look forward to hearing from you.
To learn more about the Caring Cabin team, visit our About Us page.
Click an image to enlarge.
MISSION STATEMENT OF THE HEART
Honor, protect and serve our senior adults in a beatiful adult family home by meeting their daily needs with warmth, love, gentleness and companssion through qualified caregivers and comfortable amenities at manageable and predictable costs.
Welcome Home

Caring Cabin Address
3511 236th Street SE
Bothell, WA 98021

Cell: (206) 659-1920
Main: (425) 892-2965
agape_ina@yahoo.com